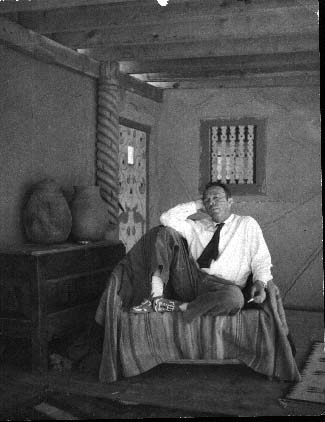 Ralph Meyers, was the "Good White Trader" in Frank Waters Classic, The Man Who Killed The Deer. In 1909 Ralph opened The Mission Shop, the first Indian curio shop in Taos.
He traveled to the surrounding reservations, buying and trading with knowledge and understanding. Few white men were as well loved and accepted by the Taos Pueblo Indians. But this was not always the case.
When Ralph first arrived, he spent his days at the Pueblo, causing great suspicion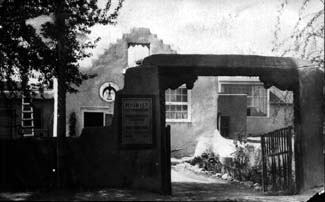 among the Indians. They wondered who this strange white man was and what he wanted. Some believed that he must be after their women, so it was decided that they were either going to castrate him or offer him a bride. Fortunately they chose the latter, which he politely declined. He wished only to observe and enjoy the timeless and beautiful surroundings.
Ralph's descendants still maintain friendships and enjoy feast days with the descendants of the same families he befriended long ago.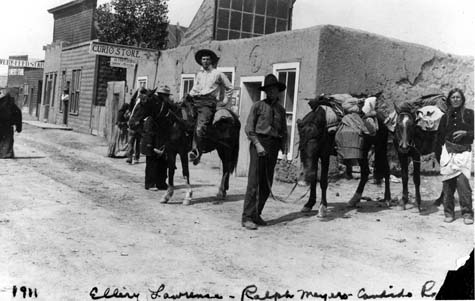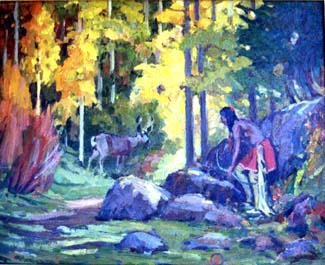 When Ralph arrived, Taos was forming a colony of artists, writers and other people in search of a life of unhurried simplicity. He easily found his place among them.
In these early years Ralph worked as a photographer and taught himself to paint. He loved color, painting dramatic landscapes and romantic images of the Native and Hispanic peoples whom he understood and loved so devotedly. Through his art, he captured a rapidly disappearing way of life. In the opinion of Russian artist Leon Gaspard, Ralph was one of the finest colorists of the period.
(Click to visit The Ralph Meyers Gallery)
In his shop he made reproductions of Spanish-Colonial furniture, executing large orders. One such order was commissioned by oilman Waite Phillips for the Philmont Ranch in Cimarron and the Philbrook Estate in Tulsa, Oklahoma.
He had a reverence for Indian culture and arts, studying and learning many of their traditional techniques. Driven by his love of the past and need to create, he mastered the art of weaving, spinning and dyeing wool in the old way. He tanned deerskin and learned to do beadwork, fashioning fine clothing and ceremonial pieces.
He was a self-taught silversmith and in his shop he trained and employed Navajo and Taos Pueblo Indians where they made jewelry and native craftworks for the growing tourist trade. Their customers included Millicent Rogers, Mabel Dodge Luhan and Queen Marie of Romania.
Ralph corresponded with well known German author, Karl May, supplying him with items for study and display in his museum collection in Radebeul, Germany.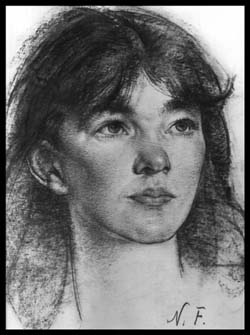 In 1933, Ralph married beautiful, young, Rowena Matteson, twenty five years his junior. In 1936 they had a daughter, Nina Cristina, and in 1938, a son, Ouray Emerson, named for Chief Ouray of the Uncompahgre Utes. Together they ran the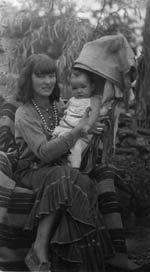 trading post, and opened La Doña Luz Restaurant, which they operated together until Ralph passed away in 1948.
Ralph was a close friend of Mabel Dodge Luhan and was part of her inner circle of friends, artists and writers. A patron of the arts, she brought together many of the famous and soon-to-be-famous creative talents of the time and introduced them to the magical and inspiring place she loved so much. Georgia O'Keeffe, Ansel Adams and D.H. Lawrence were among those she lured to the area.
Ralph and Mabel often joked about being buried together. Years later when Mabel passed on, Frank Waters recalled their playful banter and remarked, "I don't think Ralph would mind moving over a bit for Mabel". And with Rowena's approval, it was done. Mabel was buried next to her dear old friend in the Kit Carson Cemetary...
WESTERN ART AND ARCHITECTURE
Perspective: Ralph Meyers [1885-1948]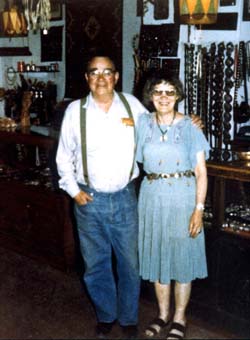 After Ralph's death in 1948, Rowena closed the shop and married J. Paul Martinez.
Paul was a direct descendent of Don Severino Martinez, builder of the Martinez Hacienda in Ranchitos, the best preserved Spanish Colonial hacienda in North America. Don Severino was a successful merchant who imported goods from Mexico over the Camino Rael. Paul's Great, Great Uncle was Padre Martinez
Through this marriage Rowena inherited the legacy and historical items from the Martinez family, many of which are on display in the Trading Posts' museum.
They both worked for the Forest Service, and at the time Paul was a ranger in the El Rito District. Knowing this, Georgia O'Keeffe asked Paul and Rowena if they would show her around the area to help her find the place where she would build her home. They spent several days driving around the area until she fell in love with the area near Abiquiu, a landscape very familiar to those who know her work.
Rowena "retired" in 1970, and reopened the old trading post, renaming it "El Rincón", the inside corner, reestablishing the tradition of trading, historic preservation and education begun by Ralph many years earlier.
Over the years, she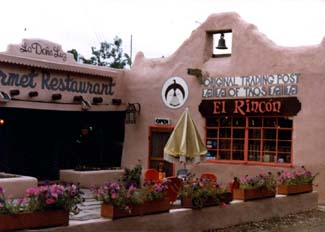 generously shared her collection of vintage Indian, Spanish and American Colonial clothing and artifacts, staging historical fashion shows for the Martinez Hacienda Trade Fair and many other special events.
(Click to view images from The Historic Fashion Shows)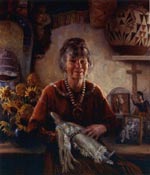 In the trading post, she added a museum to display the diverse collection of items acquired through many decades of trading with the Native and Spanish people. Rowena once said it was her "gift to the public".
Rowena passed away March 5, 2000.
Nina Meyers was born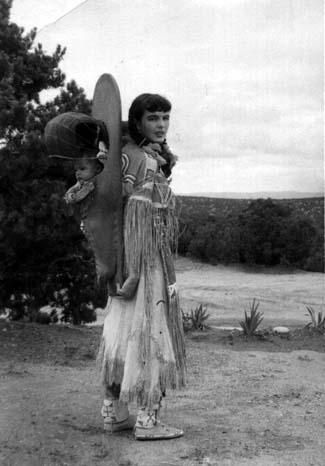 and raised in Taos and was well versed in its history and traditions. As a child she grew up knowing many of the historic and colorful people of Taos, such as Mabel Dodge Luhan, Frank Waters, Lady Brett, Long John Dunn and many of the early artists. At six months old, she was the youngest person to attend the memorial service for D.H. Lawrence.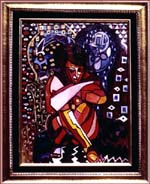 An artist in her own right, her work is featured throughout the Inn. In addition to her more serious work, Nina had a great love of folk art and was influenced by the well known Taos artist, Gisella Loeffler. Nary a trash can or kitchen cabinet escaped Nina's colorful palette and brushes!
Nina passed away July 6th, 2007