Nina Christine Meyers, one of Taos' creative talents, passed away peacefully in her home after an extended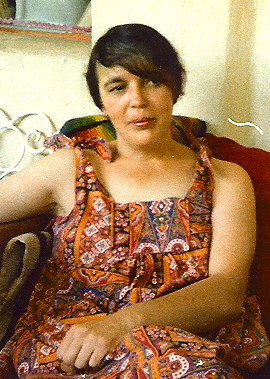 battle with cancer on July 6th, 2007. She was 71. Nina was preceded in death by her father, Ralph Meyers, mother, Rowena Matteson Meyers Martinez, and brother, Michael "Cinco" Stephen Martinez. She is survived by her brother Ouray Meyers of Taos, her children, Miguel Castillo of Santa Fe, Paul Castillo and Estevan Castillo of Taos, grandchildren, Jenina Castillo, Alina Castillo, Gabriella Castillo and Cruz Castillo of Santa Fe, Christopher Castillo, Jeremy Castillo, Jessica Greenfield, Michael Castillo and Amanda Castillo, all of Taos, Lara Via of Albuquerque, Gregory Freidholm of Denver, great-grandchildren, Jayden and Calvin Via of Albuquerque.
Nina was born in the family home on Kit Carson Street, January 6th, 1936, on Epiphany while the Buffalo Dance was taking place at the Pueblo. As a child she grew up knowing many of the early artists and colorful characters of Taos. People like Mabel Dodge Luhan, Frank Waters, Lady Brett and Long John Dunn filled her young mind with images and ideas of "old Taos" and the big world of possibilities.
At six months old, she was the youngest person to attend the memorial service for D.H. Lawrence. She lived overseas in England, Spain, Germany and Saudi Arabia, where she gave birth to two of her sons, studied art and traveled extensively. Upon returning stateside, the family settled in Santa Fe, where her youngest son was born. Here, she raised her boys and designed and built her beautiful adobe home on the Old Taos Highway. The latter half of her life was spent in her childhood home next door to the old family trading post in Taos.
A prolific folk artist, she was greatly influenced by the well-known Taos artist, Gisella Loeffler. Her work is enjoyed by collectors and adorns La Doña Luz Bed & Breakfast, where she shared her talent with visitors to Taos. Nary a kitchen cabinet or trash can escaped Nina's colorful palette and brushes! She brought history to life for locals and visitors with historic pageants she produced, depicting figures from Taos' vibrant past. She often used local models, who in many cases were descendents of those they portrayed. Through her work and dedication to Alcoholics Anonymous, she helped many in their sobriety. She also continued the operation of the family trading post, El Rincón, after her mother passed away.